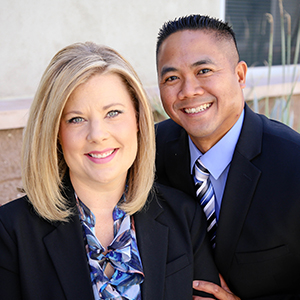 The Azares Team
Sam & Trisha Azares
Sam and Trisha are a husband and wife team that have been originating loans for over the past 17 years. Sam graduated from the University of Phoenix with his Bachelor degree in Business. Trisha spent some of her career working in Wealth Management Banking and obtaining her 6 and 63 Series licenses. They have both found their niche in home loan origination. Over their 17 years of experience, Sam and Trisha have been able to perfect their systems and processes to be able to offer and achieve the highest level of service for their clients. They understand that communication and educating their clients is key in every successful home loan transaction. They have achieved high honors throughout their career, most recently, the President's Club with VIP Mortgage. They have much passion for what they do and have found their home with VIP Mortgage. VIP Mortgage demonstrates the same core values as they have. With The Azares Team, you can expect to be walked through every step of the home purchasing process and feel confident in your decisions.
In their spare time, Sam and Trisha enjoy RVing with their three boys. They spend time at the lakes and enjoy driving up the west coast. Their three boys also keep them busy. However, they will always have the time to keep their clients and business partners updated, comfortable, and happy.
Esmeralda Egurrola
I have 10 years of experience in the operations of non-profit businesses, with a strong focus on project management and quality control. In the fall of 2012, I transitioned my career to mortgage lending, dedicating my work ethic to embracing an outside-in perspective to customer service. It is my firm belief that putting customers first in all decisions and actions should be priority. I am more attached to producing solutions for clients than selling products.
V.I.P. is a great match for my philosophy, supporting my passion for learning and growing and putting people first. The industry has changed dramatically through the years and continues to evolve. It takes dedication to learning, creativity, and a fresh perspective to be able to provide high quality service. V.I.P.'s systems and processes help make this possible by ensuring each customer's experience is seamless.
In addition to finding solutions and programs that best fit my clients, I am currently supporting the Azares team, which has more than 17 years of experience in mortgage lending. Due to the structure of our team, we are able to tap into each other's talents and, most importantly, ensure that great solutions and customer service are provided to our clients. As we cooperatively work together – each one of us contributing our special niche expertise – we are all focused on the same goal – putting the client at the center of our business. Through open and honest communication, delving deeply into the problems and questions clients face, and delivering promises through efficiency and accuracy, I strive to provide the service that helps people realize the dream of homeownership.
A native of Tucson, I thoroughly enjoy spending time with my husband, daughter, and friends in the diverse activities that Arizona has to offer. Our free time is spent boating in the surrounding lakes, enjoying the scenic White Mountains, and camping outdoors. At home, we have the privilege of housing a service dog who makes a delightful addition to our family. I've also stayed connected with my passion for social service by volunteering on the Board of Directors for Our Family Services.
Amy deRouen
I was born and raised in Southern California near Palm Springs. I moved to Tucson in 1993 following my parent's move here. I come from a long history in the medical field, starting out as a medical assistant for 9 years and transitioning into medical billing and coding for 17 years. Feeling it was time for something new and to broaden my horizons, I started with V.I.P. Mortgage in February of 2013. It has been a pleasure to work for such a great company. The motto, "Where People Are Our Priority" is truly how this company operates. Starting out as a receptionist, transitioning into marketing duties and now working on the operations side with the loan files has been enjoyable. Everyone is encouraging and willing to help out in any way. I look forward every day to learning new things and finding ways to help better the company in any way I can.
Outside of work, I have 2 daughters, both in college one hoping to enter into law enforcement and the other wanting to work for Disney. My husband and I enjoy watching and/or attending sporting events. He has 2 sons; one will play basketball at Arizona Christian University in the fall, and the other, a musician. I enjoy hiking and working out as often as I am able and spending time with my family and my 2 cats and 1 crazy dog.
Marie Martin
I am originally from Syracuse, New York and moved to Tucson when I was young. I earned my associate's degree in Accounting from Pima Community College and have been working in the mortgage industry for more than 13 years now. I have a wide range of industry experience including closing, funding, processing, quality control and loan set up, and in 2015, I joined the Azares Team.
In recent years, some of the best people I know in the business had joined V.I.P. and I felt I needed to work with the best. I am a perfectionist and here, they let me be one.
Most of my free time is spent in church-related activities. I've made many friends and enjoy attending home Bible studies and attending social activities. At home, I love spending time with my dogs and working on family history and photos. I also love television and movies. My favorites are anything MARVEL, science fiction, and anything with tough guys and a lot of explosions.
I have been with VIP Mortgage for 7 years as a loan processor and in the mortgage industry for almost 30 years. I've seen a lot of changes thru the years in the industry and still enjoy helping people make their dreams come true in owning a home.
Born in Seattle Wash. & have lived in Tucson AZ for over 40 years. I have 1 son and enjoy camping, hiking, snow skiing, water skiing & gardening.